2018 Holiday Pet Food and Toy Drive 🐶
At Logic Web Media, we understand that the holidays should be about coming together as a community to provide for those who are less fortunate. During the 2018 holiday season, we're supporting our furry friends and their loving families by serving as a drop-off location for a local pet food drive in partnership with Long Island Cares, Inc.. With your help, we hope to fill up Baxter's Pet Pantry with the food and supplies that they need to help underprivileged families feed their pets.
Where & How to Help Long Island Pets
At Logic Web Media, we don't want any dogs, cats or other animals to go hungry on our watch. Starting now through December 20th, we'll be collecting pet food, kitty litter, toys, and other important items that families need to properly care for their loved animals.
Please bring all donations to our office in Huntington Station, NY:
710 East Jericho Turnpike
Huntington Station, NY, 11746
Get directions
Monday through Friday from 9 am – 5 pm
Feel free to contact us at (631) 824-3390 if you have difficulty finding our office, or would like to drop off donations outside of our normal business hours.
What Baxter's Pet Pantry Needs
Baxter's Pet Pantry will happily accept all donations of pet food and supplies, but is especially in need of the following items:
5 or 10 pound bags of dry dog and cat food
Canned dog and cat food
Kitty litter
Treats
New toys
Food for other pets (reptiles, fish, ferrets, hamsters, etc.)
Please note that Baxter's Pet Pantry cannot accept any partially used, torn, or otherwise opened bags. All contributions must be in the original packaging. If you have any questions about donations, feel free to contact Long Island Cares, Inc. at (631) 582-3663.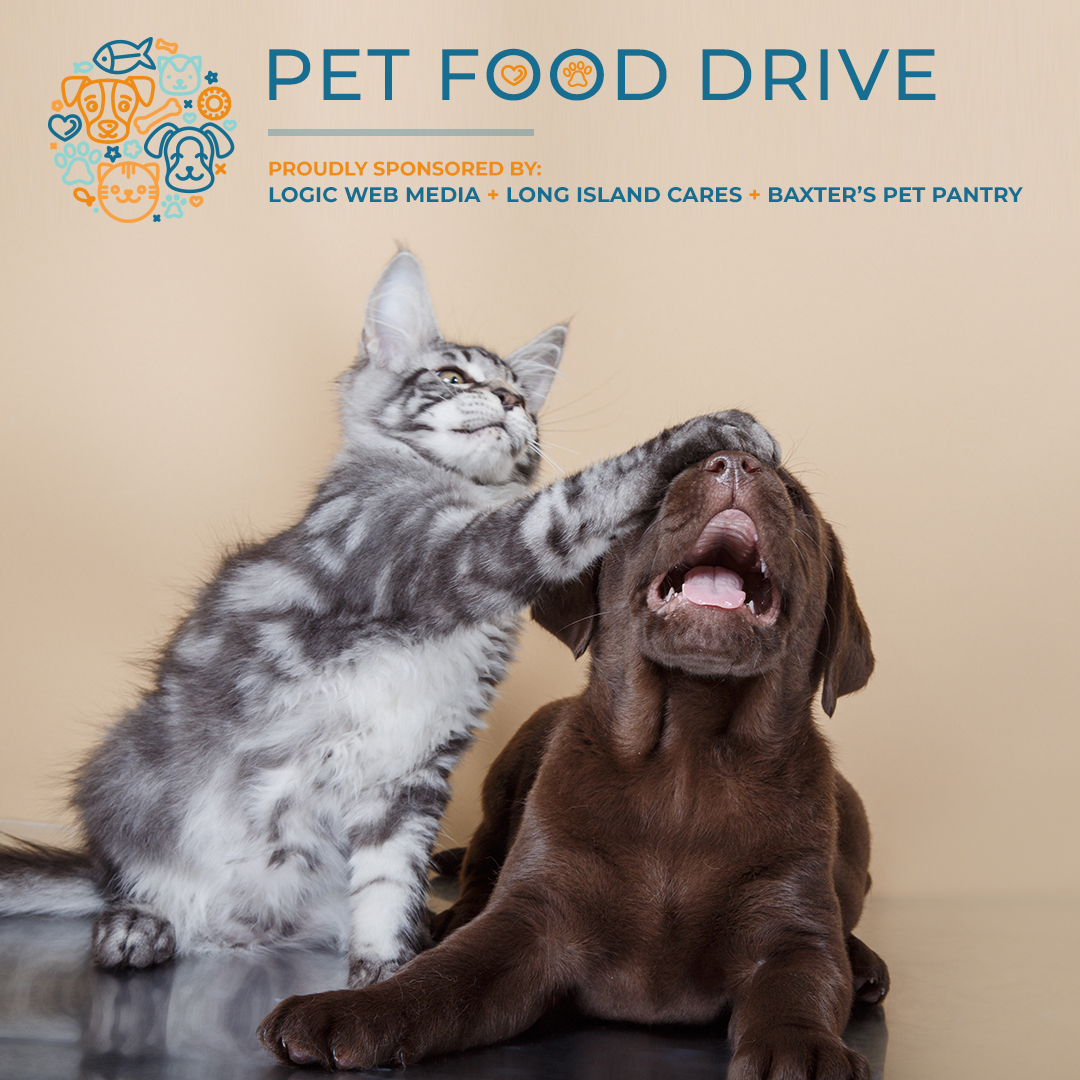 Your Donations Directly Help Pets in Need
Without the means to purchase food for their loved pets, underprivileged families are unfortunately forced to put their pets up for adoption. Baxter's Pet Pantry aims to help families keep these pets in their rightful homes by giving families the food and supplies they need to keep their pets happy and healthy. By donating pet food and other pet care items, you can take part in preserving this special bond between pets and their families.
About Long Island Cares, Inc.
Long Island Cares, Inc. is instrumental in solving the ongoing hunger crisis that affects families across Long island. Founded in 1980 by Harry Chapin, Long Island Cares, Inc. is the largest food bank on Long Island. They have made it their mission to help low-income and needy families by providing food for a network of pantries, shelters, soup kitchens and other hunger-assistance organizations across Long Island. In addition to providing food, Long Island Cares, Inc. also distributes personal care items such as soap, toothpaste, toothbrushes, and more.
In 2009, Long Island Cares, Inc. expanded the scope of their support to include animals by collecting pet food for Baxter's Pet Pantry.
For more details regarding donation drop-off at Logic Web Media, please click here to contact us.